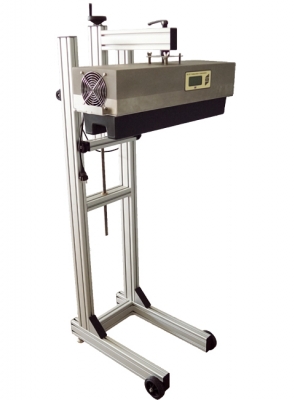 The automatic sealer is suitable for continuous production requiring high performance.
A very important feature of our machine is its intuitive operation. The sealer is equipped with a liquid-crystal display that enables a simple and fast setup. It is very easy to place the machine over the conveyor, adjust the height of the head and change the location of the optical sensor for detecting next coming containers.
The heating head is very efficient and energy-saving. Electronics are air cooled, so that the sealer does not need any additional water cooler. This solution does not require a lot of space as the machine can be added almost anywhere on the production line.
There are many variables that determine the effectiveness of induction sealing. The sealer is just one constituent part of the whole system that has to work well to ensure efficient sealing. Besides that, it is also important to choose the right liner for a particular container type, production quality of the container, pressing power used to apply liners on the container edge and many, many other things.
The sealer productivity largely depends on the diameter and material of induction liners as well as on the temperature of sealed containers and their contents. Under optimal conditions, the sealer can seal over 10,000 containers within one hour. Range of liner diameters: 30 - 90 mm
We have a test machine at our disposal. We strongly recommend to perform test sealing of containers in conditions similar to the real conditions before purchasing.
Do you want to seal containers? Contact us.